Media Sandbox
Everyone has a creative side. Media Sandbox provides free opportunities for all students, regardless of major, to experiment and collaborate in creative settings.
As a division of Michigan State University ComArtSci, Media Sandbox provides all students with access to tools and resources normally only available to students within the department.
As Art Director in 2017-18, I led a talented team of students to run ad campaigns, event promotions, and more:
---
Sampler Workshops
What: A campaign to promote Sampler Workshops, a series of free intro courses offered to all students, helping them gauge their interest in pursuing a creative field.
When: Fall 2017 - February 2018
How: Large-format posters, social media graphics, and targeted email graphics.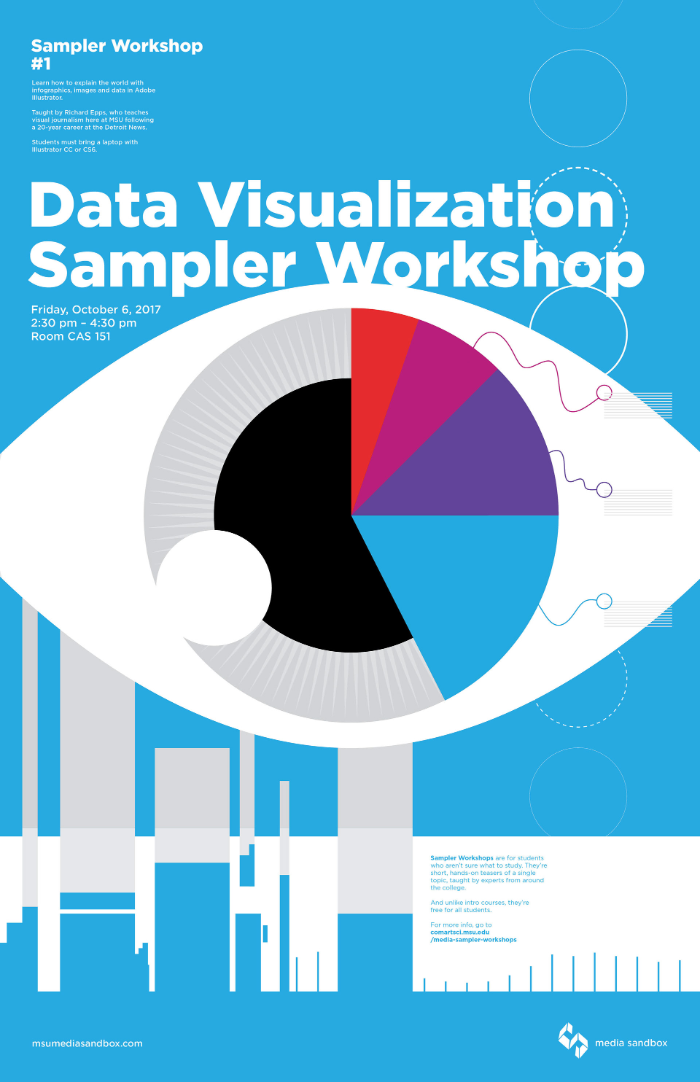 I created a logo animation, deconstructing it into its shapes and colors. We then assigned each Sampler Workshop a color and shape, and used a large-format poster to tie them back together.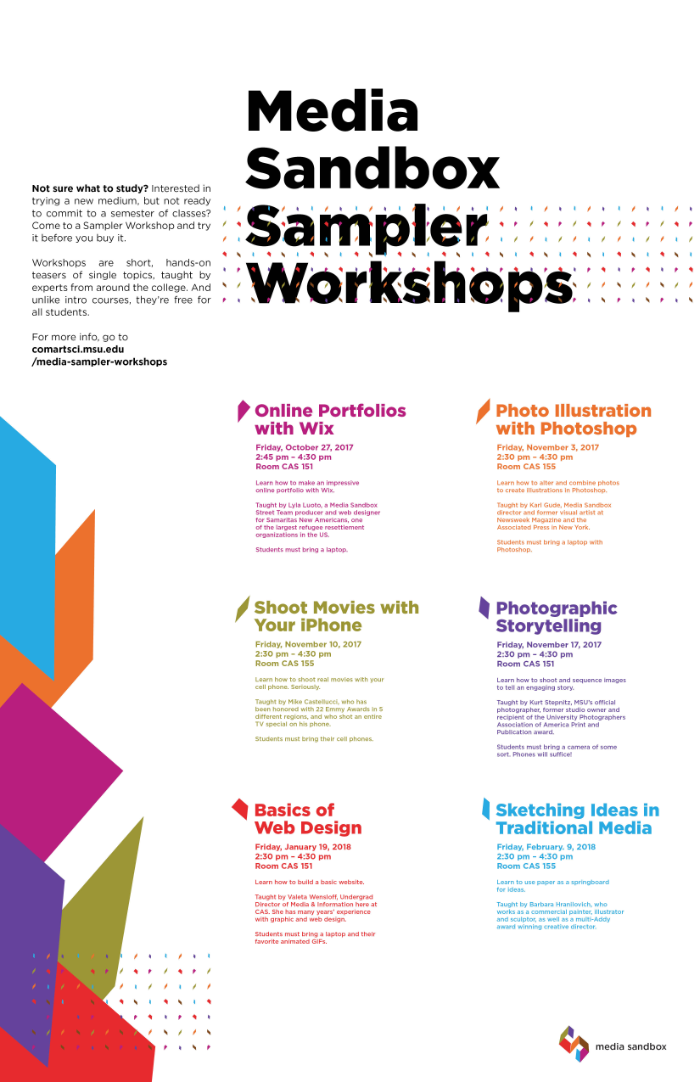 Team credits:
Travis Root- Art Direction, Design, Copy, Animation
Jeana-Dee Allen- Project Management
Karl Gude- Creative Direction
---
Creative Summer Flings
What: An award-winning campaign promoting Creative Summer Courses at MSU.
When: Spring 2018 - Summer 2018
How: We designed ads targeting primarily business and pre-med students. A version of this campaign went on to win a Gold Addy Award at the Mid-Michigan level.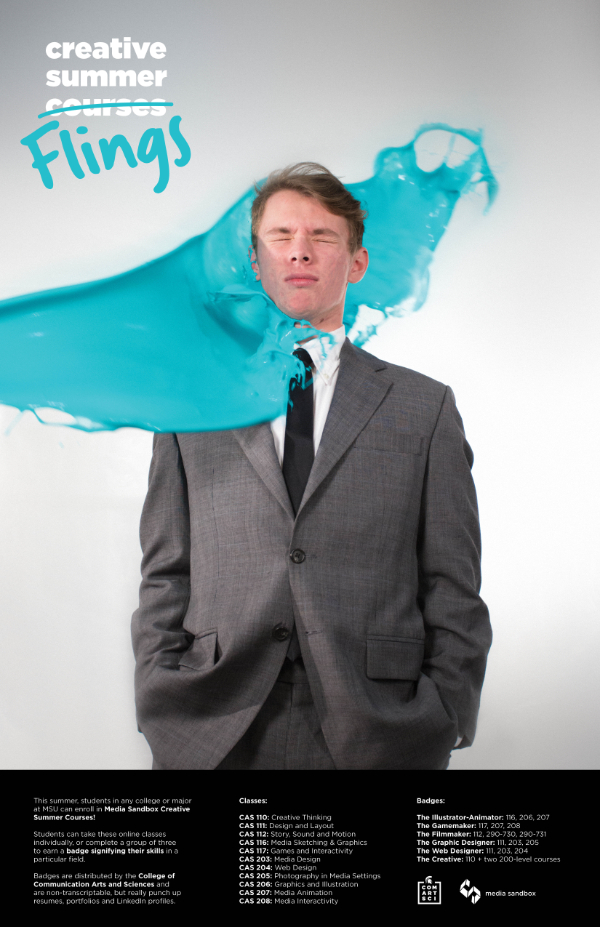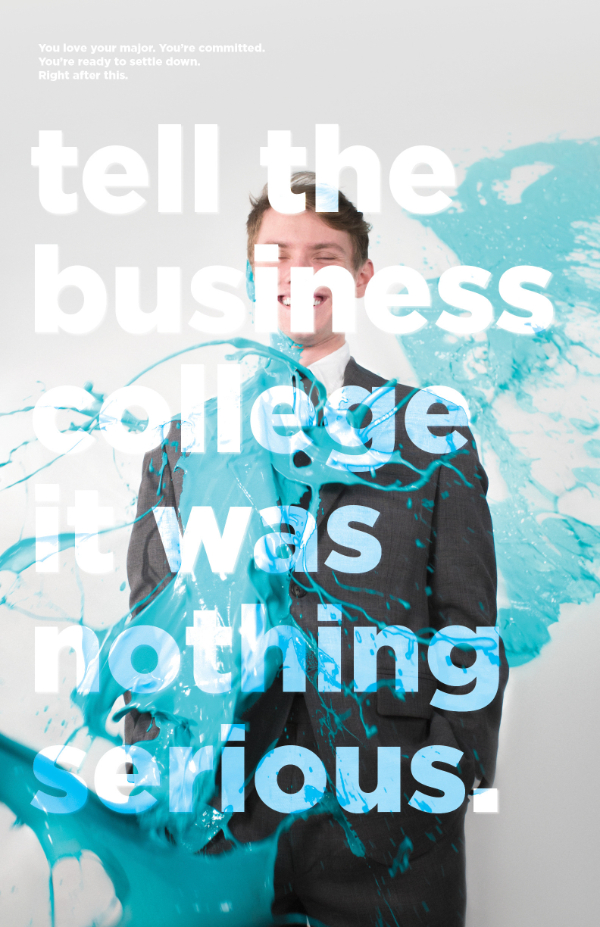 Team credits:
Travis Root- Art Direction, Design, Animation, Illustration, Additional Copy
Benjy Joung- Copy/Photography
Cara Murphy- Art Direction
Tanner Evans- Videography, Additional Photography
Jeana-Dee Evans- Project Management
Karl Gude- Creative Direction
---
Colabs
What: A series of events aimed at facilitating creative collaboration between students with different majors. Each event had a specific theme.
When: October 2017 - February 2018
How: Illustrator and Media Sandbox Director Karl Gude and I created these illustrations, which were used on posters and social media.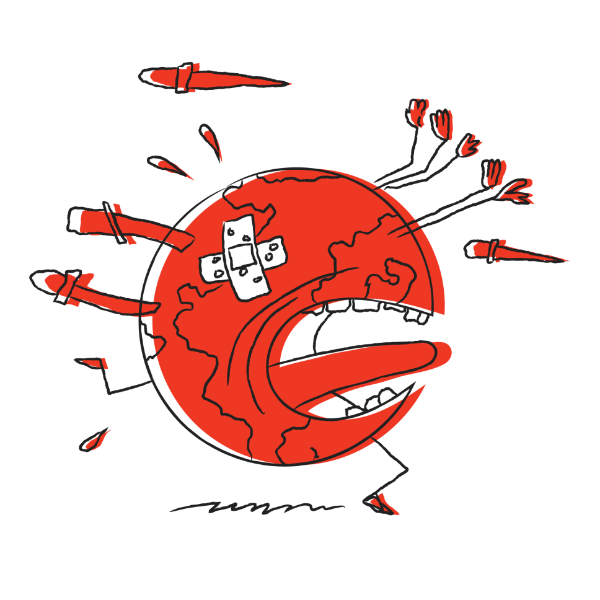 ↑ "Save the World."
↓ "Find What You Love" and "Embrace Yourself."
↓ "Get Connected" and "Discover Yourself."
I designed double large-format posters (placed near each other in hallways).
The events brought together creatives from all over MSU for dialogue and creative challenges.
Team credits:
Travis Root- Design, Additional Illustration
Karl Gude- Creative Direction, Illustration